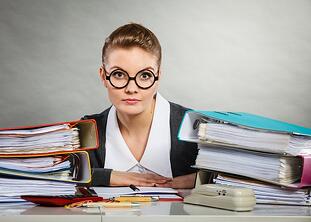 All this month we're debating the pros and cons of "doing nothing" as a lead-up to my September presentation at PRINT 13. The "doing nothing" refers to initiating a strategic change – including when and why you should do it. Last month, we looked at operations. This month, we turn to the backbone of any printing business: The financials.
For the financial perspective, we tapped the insight of LaManna Alliance's Senior Financial Advisor Ron Castleman. Ron's approach to decision-making always starts with the company's financials, as they provide you with the parameters and perspective you need to consider options.
We are assuming that your company has solid grip on its financials, and that your reporting is sound. As Ron notes, "If the financials are not in order, and cannot accurately be put in order, there are only two things you can do: Close or sell the business."

When Doing Nothing is Okay, and Why You Want a Dilemma
In the Operations post from last week, operations guru Ed Klaczak presented you with a clear-cut example of what would happen if you did nothing. Processes would deviate, consistency would suffer, and errors would occur.
Ed referenced the daily operation of the business, and it was hard to deny that doing nothing in that example was detrimental. But there are times, as Ron Castleman notes, when doing nothing is a smart choice.
Ron, a corporate and business attorney of over fifty years, previously owned and operated a 155-bed skilled nursing and rehabilitation facility and six other satellite businesses. At that time, he had to decide whether or not to invest in a new treatment model. Implementing the procedure would have required a significant financial outlay – over $2 million in building an additional wing, purchasing state-of-the-art medical equipment and hiring highly trained professional personnel.
The members of his team who were pushing the project showed him the positive projections, but Ron didn't make a move. "Something about the options didn't make sense," he says. "The numbers were not coming together in my mind."
Ron knew that a "conscious decision to do nothing is still a choice," and so he chose to do nothing. Despite the need for implementation, the numbers didn't add up.
"It is perfectly correct for a businessman to say 'let's do nothing until the facts or situation is clarified' or 'let's do nothing until more facts are in' even though, some people would argue, by not making an affirmative choice, you lose an opportunity to gain profit," Ron notes.
The preferable situation is to have two options, with concrete consequences regarding each choice. Ron believes this situation, which poses a "dilemma," is the ideal situation for an owner. "You want to narrow your choices down to two, where you can clearly see the benefits of one choice over the other."
In Ron's previous example, he didn't have a dilemma because no option gave him a clear choice. The numbers simply didn't make sense, and he pulled the project from consideration.
Factors – Financial and Otherwise - to Consider in Your Decision-Making
Let's say the numbers make sense, and you're in a position to make a clear choice. What should you consider from a financial perspective as you make your decision?
-Cash-Flow. "Always start with cash flow," Ron said. If you're looking to make a new large and expensive purchase, you first must determine whether the revenue generated allows you to meet the loan requirements. If you have a solid understanding of your cash flow, not only can you make this decision, but it can help you shape your negotiations with your lending institution.
Bottom line, no matter what you intend to do, you need to pay the monthly installment on the bank loan. Is the cash flow sufficient to pay the indebtedness and all other mandatory operational expenses? If not, you could be headed toward a cash trap, which we explained in a previous post.

-Sales. Once you have a solid understanding of your cash-flow, what will the sales revenue be for the endeavor? Will it be enough to cover the project? And what is the net profit? You're not going to take on any project if you wind up neutral or with a loss.

-Timing. Another important factor is the timing of the initiative. When will this continued need for cash flow occur? Is it in the midst of your busy season? Is business slumping because of seasonality, which will necessitate a delay? "When you act is as important as why and how you'll act," Ron said.
In considering these three elements, Ron reflected on the post on operations from last month. Ed Klaczak had strong recommendations for moving toward a quality-improvement system. His reasoning was hard to deny, but Ron would have analyzed the impact of Ed's recommendations in terms of cash-flow and sales. The cold hard reality of the situation might have dictated the move either be delayed, or perhaps scaled to fit the cash-flow requirements.
(A note: Ed Klaczak is keenly aware that any type of decision impacts the entire organization, which is why we posted on this need for a Balanced Scorecard Model, in which the impact of any new initiative is charted throughout the organization.)
Both members of the Alliance strongly agree on the need for financial and operational data as a means to make decision-making possible. As Ron notes, "If a businessman refuses to make decisions out of ignorance, then we can say that he has placed his business in jeopardy."
Photo by: Alan Cleaver.