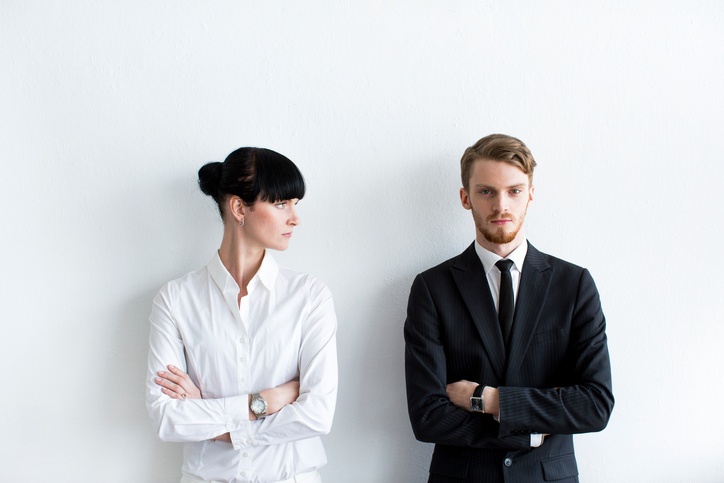 If you're in a family business owned by your father or mother, you may be in the midst of turmoil. Things are not going right, either with the family or the business, and you think Dad (we'll just use fathers in the article for the sake of brevity) is the problem. He may be – but surprisingly enough, he's just as frustrated as you are.
I spoke to Tom Hubler, the LaManna Alliance's family business specialist, about frustration being a two-way street in family businesses.
He said the emotions you're dealing with are not uncommon. As the child of a family business owner, you may feel like you're languishing in the background, your hands more or less tied behind your back.
No, it hasn't been easy for you, being the boss's child. No one seems to give you much respect, even though you've worked hard to build your skills and prove your worth. You're still just the boss's kid, even in the eyes of your parent.
Frustrating, isn't it? Especially now that you see the writing on the wall.
Your father isn't getting any younger. Either he's started to lose touch with current management trends, or he's wielding such a tight grip that when the day of transition inevitably comes, you and the rest of your siblings will have a lot of details to uncover in terms of management and processes.
Yes, you're frustrated, but what Tom Hubler points out is that your father might be equally as frustrated.
While you complain about a lack of respect, he's feeling a lack of gratitude. Most patriarchs don't believe their offspring give thanks for the business they've built. "They want their kids to recognize what they've done," Hubler said. "They're looking for validation."
Both parties are taking each other for granted, and the business is, or soon will be, careening wildly out of control. What will happen if you don't deal with these simmering emotions?
The business will suffer through an awkward transition. Without a clear strategic transition in place, when your father moves on to either another role within the company or retirement, there will be a struggle for power in the vacuum he's left behind.
The family will also suffer. With so much emotional strife in the workplace, the long-established traditions and relationships of the family will feel the stress.
Ultimately, your father's legacy will be tarnished. Like a pro athlete that either doesn't know when to quit, or signs with another team and betrays the fans, your father risks ruining the legacy he worked so hard to leave behind.
A Solution is in the Plans
Not only has Tom Hubler seen this happen time after time, but I've experienced this myself with my own family. When my father sold his business, the transition was a bumpy ride, and still is to this day.
What can help your business through the generational transition? The answer lies in the critical areas of family business planning. Essentially, you'll need the following plans in place:
1. Ownership Plan. In previous posts, I've touched on the need for a formalized structure that will allow you to separate business matters from family matters. A leadership transition requires this most of all. You need a Succession Plan, Estate Plan, and to clearly establish governance once your father has either retired or assumed a new post within the family.

2. Management Leadership Plan. The family needs to establish who will run the company, and the future role for your father. If he wants to retire with no strings attached, that's one thing. Most patriarchs, however, want to play a role in the business. One highly successful solution is to have the patriarch work as the architect of the new management structure, and transition the business from the older generation to the younger one. He can also lead the company's philanthropic pursuits.

3. Business Plan. If your family business is dysfunctional, it's likely due to the fact that you don't have a formalized business plan in place. There's no shame in that; most entrepreneurs don't.
However, with a new management team in place, it's critical that you establish where you're heading and how you want to get there. It allows for buy-in from the entire management team, and will allow you to provide clear communication to the company as you move forward.

4. Family Plan. We've been focusing solely on the business end of the issue, but you can't overlook the need for a Family Plan. It's extremely helpful to create a plan that will help you establish family equity while you're also building business equity.

This includes the traditions and rituals that strengthen the family bond and maintain those emotional relationships. Remember, a cohesive family outperforms Fortune 500 companies when there is cohesiveness within the unit. Don't overlook the Family Plan.

5. Cash-Flow Analysis. Not to be overlooked is a cash-flow analysis, so you have a solid sense of where your money is being spent, and where your profitability lies. This can add a formalizing structure to your planning, which is critical to prevent familial emotions from overlapping with business fundamentals.
These four plans and the cash-flow analysis are all essential to help the family move through the transition. Reading this post, you'll probably agree it all sounds incredibly logical and ideal for your situation.
Even though you're aware of the problem, getting out of this situation isn't easy, due to a number of factors:
Your father may be closed off and in denial that there is a problem.
You may have family in-fighting that muddles leadership or a clear perspective of the issue.
You can't seem to find a way to bring up the issues that are most difficult to talk about – money and death of a family member – and it's stopping you from saying anything.
These are the barriers that block progress and could ultimately lead to the demise of your business. It's mission-critical that you find a way to move past them.
Getting Off the Dime
The two major pitfalls of any family business are avoidance and a failure to have a plan. We've touched on the types of plans you need to have. Now let's focus on how to overcome avoidance, or your family's denial of a problem.
Educate the family. Your family might not realize there is a problem simply because they haven't read anything regarding issues that can affect a family business. Enlighten them. Without passing judgment, simply start sharing articles like this one and see if they generate a spark. Tom Hubler's website includes a number of insightful articles.
Appeal to your father's loving intentions. No matter how grumpy or difficult your father might be, he ultimately wants to see the family succeed, both emotionally and financially. Let him know that taking action is in the best interest of all involved.
Recruit mom for the job. If you don't feel comfortable approaching your father, enlist mom in the process. A spouse will not sit idly by while a family tears itself apart. Your mother may also have additional leverage especially if she is not involved in the day-to-day business.
Take baby-steps. No one has to jump right into the four critical plans mentioned above. Instead, just meet with a family business professional and get an initial evaluation of your situation.
Even if you're feeling frustrated, you should be proud of yourself. The fact that you're thinking about the dysfunction in your family means you're concerned. Now it's up to you to take the next step to ensure your father's legacy, the business's success, and the family's long-term well-being.

Photo by:hang_in_there.